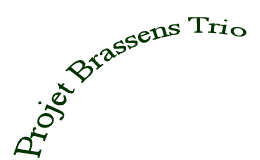 Projet Brassens Trio plays the music of Georges Brassens, as does Projet Brassens Duo and Projet Brassens Quartet.
However,if you are looking for a band that plays other French music too - for example for a party or product launch - we could still be the band for you.
Under the guise of Max's French Café Music we extend our repertoire to include music by Jacques Brel, Edith Piaf, Charles Trenet and some songs of our own in French as well as French waltzes, musettes, javas and French jazz.

clarinet


vocals ~ guitar

double bass